Virtual Coaching By Video Or Phone
Phone or Video Coaching Sessions When, Where and How You Want Them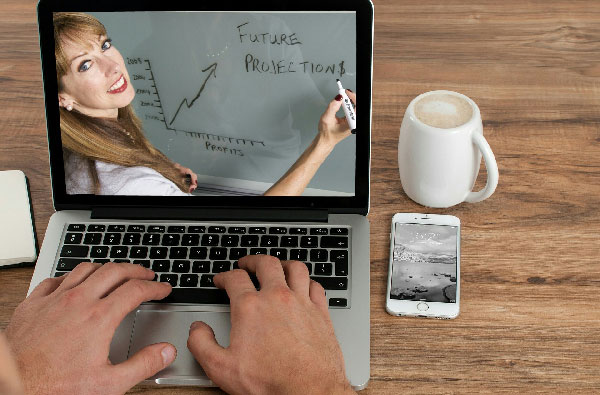 What Is Virtual Coaching?
Virtual coaching is an excellent alternative to in person or face-to-face coaching.
Virtual coaching uses software such as Skype, GoToMeeting, Zoom, or Google Hangouts to allow individuals and groups video and audio conferencing, chat, across mobile, desktop, and room systems. The software or browser link makes it possible to make a phone calls, conduct a chat, and video conference over the internet through your phone, tablet, or computer.
Equipment Needed
For phone only sessions, all you need is a phone. For video coaching, depending on whether you use your phone or computer- you will need wifi or an internet connection (ideally high speed), a computer headset or desktop microphone and speakers for your computer, and video conferencing app software, or a free Skype account. If you are using video, you will also need a webcam if you don't have one built into your computer. To find out more about using Skype and to download Skype software click here. For affordable web conferencing software try the one we use, Zoom.us.
Who Can Benefit From Using Virtual Coaching?
Virtual coaching is increasingly being used by people who live in remote areas, are unable or not wanting to travel for a meeting, need or prefer to be in their home or office, or want the specialized service of someone who is not located in their area.
Advantages of Virtual Coaching over In-Person coaching?
Those who use virtual coaching:
Do not waste time traveling to coaching sessions.
Save money on gas, car service, or public transporation.
Do not have to pay parking fees.
Can do it from any location.
Can choose whether the person you are speaking with can see you.
Can do it in their pajamas or whatever they wish to wear.
Can record the session for later listening.
Like that it is an environmentally/carbon friendly way of meeting.
Expand their options allowing them to communicate with people locally, nationally and even internationally.
Are able to communicate and coach on more times of the day.
Can coach using both individual and group sessions.
Are able to meet despite adverse weather conditions.
How Is Virtual Coaching Different from Face-to-Face Sessions?
Difference Between In Person And Virtual Sessions
Virtual coaching is somewhat different from face to face sessions, especially if you use the phone only coaching or no video option. Obviously, if you cant see each other, you will miss visual cues that each uses to communicate making the process more challenging for both parties. No video mode of communication is not ideal for life or business coaching but can work well for more technical coaching sessions such as career coaching where you might do resume review and preparation, or one involving a career interest report review might take place over the phone.
Many People Prefer Video Coaching Over Telephone or Chat
Video coaching is preferable because it enables us to see visual cues, such as facial expressions, hand, and other body cues which we use to gather meaning from communication. We use these cues so we can understand each other better and as a result, have fewer incorrect assumptions.
How Is Phone and Video Coaching Similar?
In all coaching sessions, the coach treats the coaching process similarly. In the first few and ongoing sessions, we strive to get to know you and learn how we can best help you based on your interests, goals, unique strengths and challenges. Depending on the type of coaching program you choose, our coaching time together will focus on creating both short and long-term goals, and we review goals based on measurable outcomes that we set in the sessions so that we both feel that the sessions are helpful. We work to build an environment of trust where the coaching process continues to improve as the coach learns how to help you best. Where it is needed, we work to teach new skills, create systems, and use tools which we develop or refine based on what is required and what is working.
Virtual Coaching Options
Coaching sessions are typically in 45-50 minute blocks. If time allows, and it is needed, we might extend the session to 60 minutes. Depending on the type of coach and coaching you choose, a written summary of the session may be provided.
Coaching calls can also be recorded and sent to you at your request. This is especially helpful for career coaching sessions where we do mock interviews.
All virtual coaching sessions are scheduled using our online scheduling portal and are pre-paid using an online payment system unless another arrangement is discussed, an agreed to by both parties. Invoices can be provided at your request.
Scheduling An Appointment
If you think you could benefit from Virtual coaching, please schedule an appointment for your first session, or send us an email with any questions you might have.
No Risk First Coaching Session
If We Are Not Right For You- You Do Not Pay The First Session Cost
During the first session, we will discuss your specific needs & goals, make sure we are the right coaching service for you, and that this is the right time for coaching. If we decide that it does not make sense to work together, you will not have to pay for the session unless you feel like you got something out of it and want to pay for it.
Preparation for Coaching
We recommend you use a microphone or headset when doing virtual coaching as the quality of some computer or phone audio is not always good enough for both the send and receiver, especially where there is interference or background noise.
If you are not using video and all that you are doing is talking, a computer headset or earphones with a built-in microphone can provide superior sound quality since the microphone is located close to your mouth. Because of the increasing use of noise cancellation technology in these devices, it is easier for people to hear you over background noises.
If you are not using video, or prefer not to use a headset, and like to move around when talking, one option is to wear a wireless lavalier or clip style microphone. These devices typically attach to your clothing such as a jacket lapel and can pick up your voice better without having to wear a headset. If you are using your webcam at your desk, consider using a USB desktop microphone. These devices are very effective at picking up sound from all directions and are great for coaching with groups. They usually have better audio quality than the built-in microphones.
Ready To Get Started?